PADI, the Professional Association of Diving Instructors, is the world's largest scuba diver certification agency.
PADI courses are well known for their excellent support materials.
All PADI courses are supported with high quality, easy to comprehend textbooks, videos and graphics, tablet or online courses.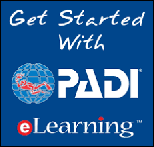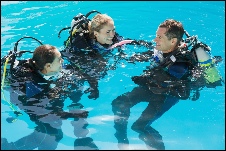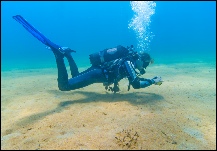 Discover Scuba
A quick and easy introduction into what it takes to explore the underwater world.
This is not a scuba certification course, but you'll learn all the steps it takes to be a PADI certified diver.
All for only $45.00
* Plus Pool Fee
Ideal team building experience
E-Learning
Learn by watching, listening, reading and interacting with a dynamic instructional program.
This is the first step to becoming a Scuba Diver. Take the e-Learning class at your own pace, on your schedule.
Pool Dives
Move to the pool and practice your new skills.
In the pool, you will learn and practice the skills necessary to becoming a Scuba Diver.
Your safety and comfort level are extremely important to us.
We will take all the time necessary to help you become a Scuba Diver
Open Water Dives
Experience four open water (ocean/lake) dives.
Open Water Dives are completed in various lakes throughout the area or during tropical trips.
You will be asked to demonstrate the amazing new skills you learned in your pool dives during 4 Open Water Dives.
Advanced Open Water & Specialties
Advance your diving knowledge & skills
These courses help build confidence and expand your scuba skills through different Adventure Dives.
You try out different specialties while gaining experience under the supervision of your PADI Instructor.
You log dives and develop capabilities as you find new ways to have fun Scuba Diving.
Rescue Diver
Learn to prevent and manage problems in the water, and become more confident in your skills as a diver. It's challenging, yet very rewarding.
During the course, you learn to become a better buddy by practicing problem solving skills until they become second nature. Plus, the course is just fun – it's serious, but still allows for lots of laughter in between the focused learning.
Master Scuba Diver
Join the best of the best, the elite group of respected divers who have earned this rating through both significant experience and scuba training.
Fewer than two percent of divers ever achieve this rating. When you show your Master Scuba Diver card, people know that you've spent time underwater in a variety of environments and had your share of dive adventures.
Divemaster (Pro)
Be a leader who mentors and motivates others. Gain dive knowledge, supervision abilities, and become a role model to divers around the world.
Scuba divers look up to Divemasters because they are leaders who mentor and motivate others.
As a divemaster, you not only get to dive a lot, but also experience the joy of seeing others have as much fun diving as you do.
Start Now
More Info
More Info
More Info
More Info
More Info
More Info
More Info
More Info